This slice of sponge with his cheerful pineapple ring is one of my few positive memories of school dinners (which, I realize now, focuses on foods eaten with custard). Unlike the gypsy pie, however, which appears to have been created for the express purpose of filling Kent schoolchildren with minimal expense, the overturned cake has its roots in medieval cakes and sophisticated French parents in the form of the overturned cake. , which has evolved into a tarte tatin.
Pineapples, however, were far too rare and expensive to waste in such thrift stores – much better just hire one to show your friends – until James Dole's Hawaiian Pineapple Company decides to box them and market them to the public through upturned cakes. This old idea has become hottest bake of 1926 and, where America leads, Britain ends up following; as Nigel Slater recalls, the pineapple upside-down cake was "as exciting as the cake obtained in the 1960s in Wolverhampton", while Jamie Oliver is lyrical about the version served in his primary school in Essex two decades more late.
Frankly, I'm still very enthusiastic about cakes of all kinds, but it's a special treat to make, due to the theater involved – and how even the most banging of bakers can turn out to be surprisingly impressive. Lumpy cream, it's up to you.
The fruit
While the fresh kind is available year round at my local garage, most of the recipes stick with canned pineapple in juice or syrup: Nigella Lawson, who admits on Nigella Express that she has only "vague memories of the nursery" of spilled pineapple cake, goes so far as to say that she finds "a little bad sport to start peeling and slicing your own pineapple". Only the Jamie Oliver's Comfort Food Recipe calls for fresh fruit.
What you choose depends on what you are looking for. The perfectly even slices of canned pineapple look more impressive, cut a lot of faff, and will give you something closer to the cake you might remember from school, but the acidity of the fresh fruit in it. makes a more complex dish, so I'll leave it to you. Whatever your use, be sure to dry the fruit well, as Rahul mandal recommend, as this will help it caramelize rather than steaming under the dough.
If you go for canned pineapple, I would go for the juice stuff; not only are fruit in syrup now practically an endangered species, but you can use the juice to add flavor to the sponge itself. Lawson believes that this also helps make it "light and fluffy", although it is wise to add some baking soda, like her, to balance the acidity and only pour it at the last minute to minimize disturbance on the way up. (Note: If you are using fresh fruit, you will either need to squeeze some of it or purchase a carton of juice.)
Glazed or maraschino cherries are a more recent addition; earlier recipes seem to have preferred nuts such as pecans in Michael Kors' version (Yes, this Michael Kors; it was published in Vogue, which is not my usual reference for this column, but I like to think that I leave no stone unturned in my quest for perfection). It is difficult to match the burst of color offered by cherries, but feel free to leave cherries aside and / or use nuts, prunes, apricots or other dried fruits instead, if you prefer. Pecans might not be quite as pretty, but they add a satisfying crunch.
The base
Lawson butter and sugar lightly the base of his tin, while Mandal and BBC Good Food's Sara buenfeld both make a butter and sugar paste, spiced with ginger in the case of Mandal, to sit under the fruit. Oliver uses a method that is familiar to me: tarte tatin, melt the butter and sugar until they are melted, then add the fruits and let them become "golden" in the pan before placing them in the pan. cake pan and pour caramel on top. Delicious, but it leaves the pineapple softer than I would like.
The flavor, however, is great, so I went for the Kors compromise, which melts the butter and sugar in the can before adding the fruit off the heat and then letting it brown lightly without releasing too much of it. juice in the process. Kors, who attributes her recipe to her grandmother Bea, "a high school principal who loved fashion, style and baking," recommends using a "cast iron skillet," which "helps her caramelize while cooking. cooking ". I don't have a properly sized cast iron pan, and it's a risky idea to make this cake in a loose pan no matter what Oliver says, so I heat a flat cast iron pan in the oven instead. and put the cake on top, which, while far from being the key to success, helps color the base.
Kors, Buenfeld, and Mandal all use brown sugar for this step – dark brown, in Mandal's case – which is a great way to add to the caramel flavor without caramelizing the sugar to the point of hardening it. A little crunch around the edge is a textural treat, but the fruit should stay juicy.
The sponge
Not a lot of variation here. Oliver, Buenfeld, and Lawson use the classic formula of pound cake with equal parts flour, butter, powdered sugar, and eggs; Kors adds two more egg yolks in place of some of the butter, which gives his cake some soft weight; and Mandal uses half dark brown sugar and half powder. I don't want to give up the butter because the flavor works so well with the fruit, but I'll include some light brown sugar to echo the caramel flavor on top. Buenfeld and Mandal both add baking powder to their self-rising flour, which is a good way to ensure really chewy results (I prefer regular flour, so I added an extra teaspoon instead. ).
Oddly enough, a lot of recipes, maybe because they're written for busy family cooks, suggest an all-in-one method, but, unless your butter is really squiddy, I think it's still. safer to cream it with sugar first for a smooth result. Mandal is the only one to make its sponge cake in the classic style of school trays, as opposed to a round box. Obviously that makes it bigger, but as I see it as something to eat in pieces covered in custard, rather than delicate slices with a fork, it seems more appropriate. Fortunately, it stores well, so you don't have to eat it all at once.
The aroma
Both Kors and Buenfeld add vanilla extract to their paste which, for once, I think, really deserves its place: this fragrant sweetness is more than balanced by the robust acidity of the fruit. If other tropical flavors are appealing, Oliver's coconut paste, made by heating desiccated coconut with coconut milk, may be something to consider: like piña colada in cake form, according to one of my testers (which makes me wonder if I should have soaked it in rum too).
Mandal takes a different, spicier route with cardamom, chili and ginger powders, and chopped stem ginger, giving its sponge a distinct and pleasant warmth that reminds us of a rather fancy Jamaican ginger cake. Clever but, like Oliver's, not the pineapple upside-down cake you're probably nostalgic for. If you are looking for something a little different, however, it comes highly recommended.
The garnish
While not strictly necessary (more like the cake itself), a last dash of flavored syrup will give you nicely shiny results. Oliver does a tangy version with lime juice and ginger, while Mandal sticks to a simple brush of golden syrup, which does the trick more inconspicuously. If you have stalk ginger in syrup, or even maraschino cherry syrup that you maybe used on top, that would be even better.
While solid enough to take a picnic, I think it's best served hot, preferably with lots of extra thick custard. Each his own, however.
Perfect Pineapple Upside Down Cake
Preperation 35 minutes
to cook 35 minutes
Makes 12 squares
For garnish
1 large ripe pineapple, or 12 canned pineapple slices in juice
75g butter
100g soft, light-cassonade
30 maraschino or icecherries (optional)
For the cake
250g softened butter, at room temperature
125g caster sugar
125 g light brown sugar
4 eggs
240g plain flour
3 teaspoons of baking powder
½ teaspoon of baking soda
½ fine salt
1 tsp of vanilla extract
3 tablespoons of pineapple juice (tin, if using)
2 tablespoons of golden syrup, sugar syrup, runny honey, or cherry syrup with maraschino or stem ginger, to finish (optional)
Start by preparing the pineapple, if necessary: ​​peel, remove any "eyes", then cut it in half, remove the core and cut into half-moons of about 1 cm. Put the slices between two pieces of kitchen paper to dry (and do the same if you are using canned rings).
Put a mold of about 30 cm x 21 cm on low heat and melt the butter and sugar for the filling until it bubbles. Remove from the heat, arrange the pineapple rings in a nice pattern on top, then place a cherry, if using, in the center of each.
Heat the oven to 180 ° C (160 ° C fan) / 350 ° F / gas 4 and, if you have one, put a baking stone or cast iron griddle in it to warm up. In a large bowl, cream the butter and sugar until light and fluffy, then fold in the eggs one at a time, making sure each is well incorporated before adding the next.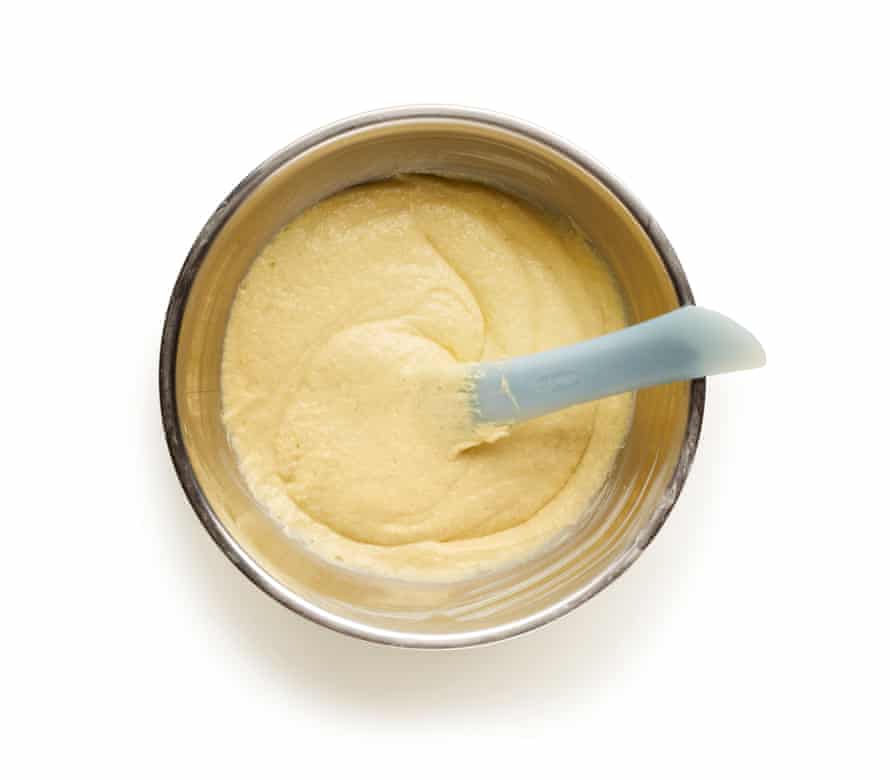 In a second bowl, whisk together the flour, baking powder, baking soda and salt, then fold everything into the dough mixture, followed by the vanilla extract. Add enough pineapple juice so that the dough falls off easily from a spoon, but does not flow.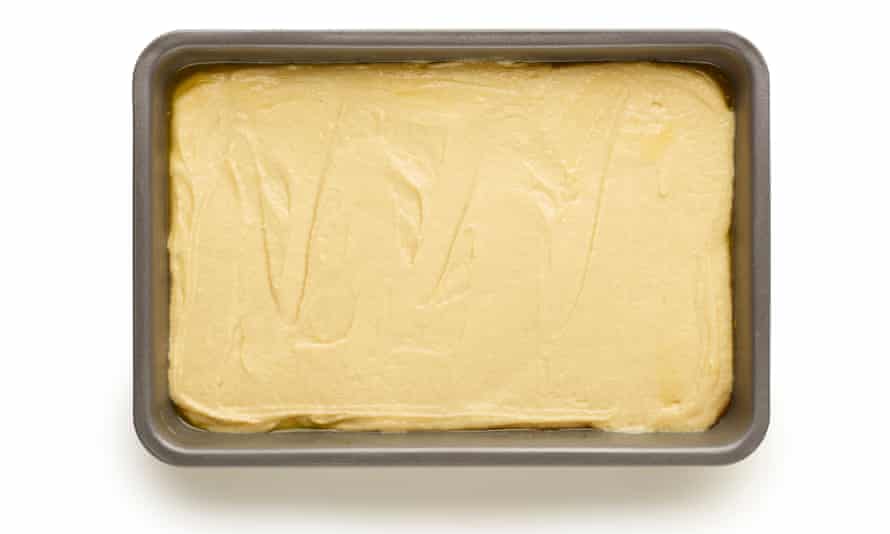 Pour the batter over the pineapple in the pan, smooth the top and bake for 40-45 minutes, or until well risen and just firm in the center.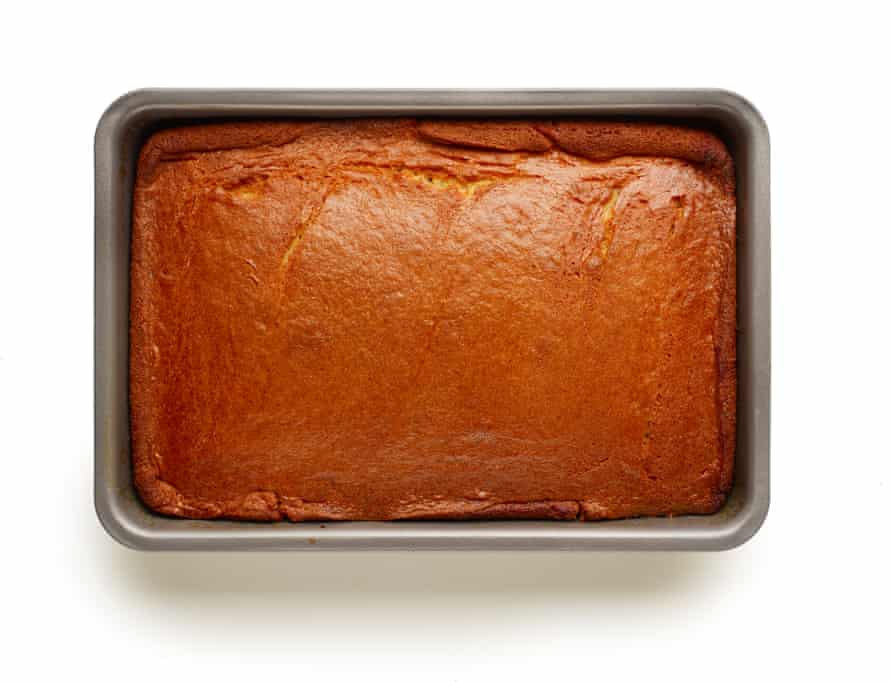 Remove, let cool in the mold for five minutes, then run a spatula around the edge to peel off and gently turn over on a board. Brush with syrup, cut into portions and serve hot with pastry cream, ice cream or cream.